PRACTICAL INFORMATION
All concerts are FREE access
We invite you to check the conditions to go to each site in altitude (lifts, animals in natural areas,...).
You will soon be able to benefit from a specific offer on the lifts with our partner Mont-Blanc Natural Resort.
The concerts at the Parc Couttet from 26 to 29/07 are also FREE.
---
For the latest information about the Festival
For information on transport, accommodation, activities and leisure
Chamonix Tourist Office
+33 (0)4 50 53 00 24
www.chamonix.com
Les Houches Tourist Office
+33 (0)4 50 55 50 62
www.leshouches.com
Vallée du Trient Tourisme
+41 (0) 27 768 12 78
www.valleedutrient.ch
---
Use public Transports
In the interest of everyone, we ask all festival goers to help us ensure the fluidity of circulations, favoring public transport and car-pooling.
If you come by car to the concert venues, car parks located at the bottom of the lifts can be quickly saturated. For this reason, we recommend you to come by bus or train.
FOR TRAINS TIMETABLES CLICK HERE
---
How to come to Finhaut - Trient (Suisse)
From Chamonix > Argentière > Vallorcine by col des montets > Custom ( France/Suisse) > Finhaut
From Martigny, direction Chamonix > Trient > Finhaut
Don't forget your passport !
---
How to come to Chamonix
Chamonix Mont-Blanc is located 90 km from Geneva, 40 km from Martigny, 100 km from Lausanne, 200 km from Lyon and 170 km from Torino.
By plane
Chamonix-Mont-Blanc is:
- 88 km away from Geneva-Cointrin International Airport
- 220 km from Lyon - Saint - Exupéry International Airport
- 171 km away from Turin International Airport
Then with private transport, bus or taxi...
By train
Main lines by TGV from Paris :

- Paris - Annecy
- Paris - Lyon
- Paris - Bellegarde
- Paris - Chambéry - Aix Les Bains
Connections by Train Express Regional (TER) to Saint Gervais Les Bains - Le Fayet at 20 km from Chamonix.
The Mont Blanc Express goes from St. Gervais les Bains, through Chamonix valley to Martigny (Switzerland).
www.tmrsa.ch
By bus
Regular connections by bus connect Chamonix from Geneva and Courmayeur daily.
By car
Access through Autoroute Blanche E25 - A40.
At 16 km from Switzerland via the Col des Montets
At 15 km from Italy via the Mont Blanc Tunnel
More info on www.chamonix.com
---
Travel by car with other people!
Cosmojazz tips
The concerts in altitude are FREE but access to sites with lifts are not. Buy your lift pass online in advance to access the concerts in altitude with our partner, Mont-Blanc Natural Resort. Come back soon to get a promotion code...
• 3-day Multipass
30% discount on the purchase of your MONT BLANC Multipass 3-day non-consecutive lift pass to be used over a 7-day period valid for the week of the COSMOJAZZ FESTIVAL July 24 to 30, 2023, which will enable you to take the lifts on the day of the concert and explore all the other extraordinary sites in the Chamonix Mont-Blanc Valley, including the Aiguille du Midi, Montenvers, etc.
MONT-BLANC Multipass 3 day offer
• One day Return ticket
20% discount on the Flégère, Plan Joran or Planpraz cable car return ticket, valid the day of the event on the site concerned.
Remember to select your dates before continuing your order...
The discount is granted on the website (no discount at the cash desk or at the kiosk) and for any advance purchase until D-1.
---
Program will change in case of bad weather...
In the event of bad weather, the concerts in altitude may be moved. Alternatives will be communicated to you either the evening before or the morning of the event. We invite you to check the information on venues and times each morning on the website and on Facebook CosmoJazz Festival.
LOCATIONS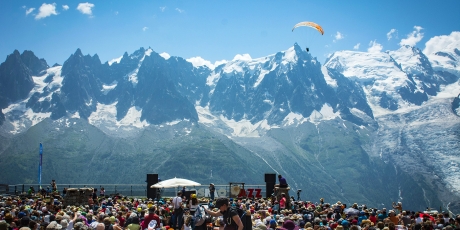 All concerts places...
Access to concerts - Itineraries
Saturday 22/07 - BALADE BISSE DU TRIENT
Saturday 22/07 - LES HOUCHES - LAC DES CHAVANTS
Sunday 23/07 - LES MONTUIRES - SUISSE
Tuesday 25/07 - FLÉGÈRE
Wednesday 26/07 - PLANPRAZ
Thursday 27/07 - ALPAGE DE LORIAZ
Friday 28/07 - ARGENTIÈRE - LOGNAN
Saturday 29/07 - PLANPRAZ
---
Recommandations
In altitude, the weather is unpredictable and changeable. Even in summer it is good to bring warm and waterproof clothes. It is also strongly recommended to bring sunglasses, hats and suncream.