ORGANISATION
---
The idea of setting up this event was initiated by Stephanie and Andre Manoukian, living in Chamonix. They contacted Carine Zuber, head of programming for the Cully Jazz Festival, to join this experience as an organizer of the adventure.
In February 2010, all three initiators of the project created the association Cosmojazz Chamonix.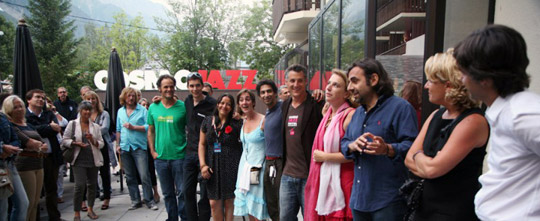 With the support of Chamonix, but also the commitment of the Compagnie du Mont Blanc, they made the first edition in three days in summer 2010, the organization was entirely voluntary. Nurtured and encouraged also by a multitude of people willing to help in this process, organizers decided to continue the adventure which extends five days since 2011.
In collaboration with :
Mairie de Chamonix-Mont-Blanc
| | |
| --- | --- |
| 5e adjointe au Maire chargée de la culture | Sylvie Cefali |
| Director of cultural affaires | Arnaud Ledru |
| Cultural & Events Service | Guillaume Geneau |
| Director of communication | Jean-Marc Milhomme |
Vallée du Trient Tourisme SA
| | |
| --- | --- |
| Marketing Director | Pascal May |
Compagnie du Mont-Blanc
| | |
| --- | --- |
| President General Director | Mathieu Dechavanne |
| Commercial & marketing Director | Antoine Burnet |
| Marketing assistant | Benedicte Leclercq |
---
Mairie les Houches
| | |
| --- | --- |
| Adjoint Jeunesse Vie Associative et Culturelle | Gilles Pavot |
| Responsable animations & événements | Olivier Carouge |